The trap of the vicious circle of unpaid payday loans may land you in court. Luckily, at Encompass Recovery Group, we understand the challenges that thousands of Americans go through due to the piling of unpaid debts. 
It can be frustrating and stressful when you have various payday debts from multiple lenders with different interest rates. It may be hard to make ends meet. At Encompass Recovery Group, being America's Company for debt consolidation, we will provide you with solutions and strategies to get you out of loans and live a more fulfilling life in charge of your finances.
At Encompass Recovery Group, we offer online payday loan debt relief. We make it easy for you to quickly and efficiently pay off your debts at a reduced monthly payment and interest rates. It may be challenging to deal with various lenders charging high interest rates on their payday loans.  
The chances of you paying your loans on time are also minimal due to the high fees charged, which may not affect your level of income much; hence you may get stuck in the continuous cycle of payday loans to make ends meet.
Insights into Online Payday Loan Debt Relief
Payday loans are short-term unsecured payday loans that attract high rates of interest. They are unsecured, meaning they are not attached to collateral such as mortgages or someone's assets in terms of property or vehicles. Unlike in secured loans where you are required to produce collateral, which will act as security in a scenario where you cannot pay off your debts, unsecured payday loans do not require such kind of collateral.
Payday loans are required to be paid back within a period of two to four weeks when you get your paycheck or when you receive your other sources of income according to the schedule that you agree on. Payments are made through a post-dated cheque or by allowing us to make a debit payment electronically from your bank account directly. The laws of the states dictate a lending company should operate online or have a storefront. 
A higher percentage of Americans struggle to pay back their debts due to excessive fees and high interest rates. Many end up depending on a continuous cycle of payday loans for survival between paychecks. Due to the high rates charged on payday cheques, this may be a very costly life to live, especially when you are short of cash before getting your next paycheck.
Although payday loans start as an unsecured kind of debt, through a lawsuit from the court, they may be converted into a secured debt if you fail to repay. 
The lawsuit may allow us to get a judgment that will enable us to access appropriate debt collection methods such as bank levy, wage garnishment, or securing collateral against your debt. 
Loans against the creditor's assets may act as a secured loan and can't be easily eliminated through bankruptcy the way most of the unsecured debts such as credit card debts can be erased.
Protection of Borrowers against Brutal Lenders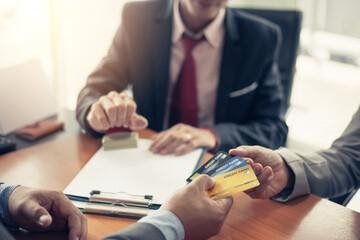 Most of the lending companies usually harass borrowers who cannot pay back the full amount of the loan and on time. Luckily, there are federal laws that protect and govern the relationship between lending companies and creditors. The Fair Debt Collection Practices Act (FDCPA) was put in place to protect borrowers against debt collection practices that are abusive.
The FDCPA offers protection against misleading, harassing, and abusive tactics used by debt collecting agencies and companies. Debt collectors are mostly hired to facilitate the debt collection process but must adhere to federal laws. It is illegal for a debt collecting agency to threaten or harass you even if you have not paid your loan on time.
However, the borrower's compliance with loan payments is vital in improving your credit score. 
Non Payments and late fees of payday loans may adversely affect your credit score and lower your chance of securing a loan in the future. Avoid such kind of inconveniences by paying your loans according to the schedule.
Consolidate Your Payday Loans With Us
Encompass Recovery Group is devoted to offering online payday loan debt relief to get you out of the trap of a continuous cycle of debts. We also provide other types of accounts, such as credit cards, cash advances, repossessions, installment loans, collection accounts, and many more.
Why wait? Contact us today and get financial help.
References and Resources