Over the years, at Encompass Recovery Group, we have been devoted to helping those drowning in debts. We offer a wide range of financial strategies that have helped many come out of the trap of continuous debts. 
We provide different types of loans at friendly terms and reduced interest rates. One of the loans that we offer is a consolidation loan; you can take it and use it to repair your multiple payday loans and repay using the debt at reduced monthly rates.
When you have a negative credit score, it may be a tricky financial game that needs some diligence and patience to succeed in consolidating your payday debts. When you have a good credit score, which is usually above 640, you stand a good chance of securing a consolidation loan at a reduced interest rate at Encompass Recovery Group. An impressive credit score proves your ability to repay your loans hence improving your qualifying for a loan.
With a debt management plan, you can secure a payday debt consolidation even if your credit score is low. However, you must prove your ability to repay the loan amount in full and on time. 
All this depends on the agreement we make after an evaluation on your finances and source of income. If you cannot qualify for a consolidation loan, you can opt to apply for a secured type of loan where you are required to place collateral as security for the debt.
The main aim of taking a payday debt consolidation loan is to benefit from the reduced interest rate and a streamlined repayment method. Unlike in payday loans, where you are required to pay your various lenders separately and with different interest rates, under consolidation loans, you are only required to make a single monthly payment to one lender, which is much convenient.
At Encompass Recovery Group, the ratio of an individual debt to income is scrutinized when evaluating a borrower's creditworthiness. Those seeking to take a payday debt consolidation are advised to ensure that this decision will fully cater to their problem and regain control of the finances. Strict adherence to monthly payments is highly emphasized to avoid extra charges and for the maintenance of a perfect credit score. 
Benefits of Payday Debt Consolidation
Struggling in a cycle of multiple debts could be very stressful and embarrassing as you may end up losing control of your finances. Fortunately, Encompass Recovery Group offers payday debt consolidation. You can use a strategy to pay back your multiple loans. Some of the advantages of this loan include:
You have a streamlined, convenient single payment as a result of merging your multiple loans into one. It is easy to pay and with less hassle. The monthly charges are also lowered, thus saving your money instead of paying various lenders with varying interest rates.
It is also less stressful as you will benefit from our expert financial advisors who will advise on an ideal way to manage your finances. You also avoid disturbing calls from debt collectors. You will be in control of your payments, thus easy to budget for your other expenses.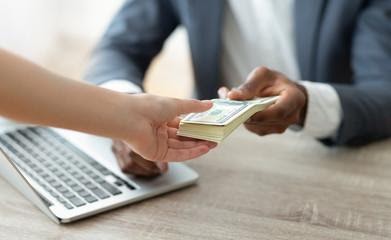 Payday debt consolidation will ultimately get you out of debt; you will no longer be trapped in debts, thus becoming the boss of your finances. This plan will enable you to pay your loans swiftly in a more organized manner.
Loan payment compliance will boost your credit score. Thus, you may get financial support from Encompass Recovery Group when you need it.
Being on good financial terms with your lender will ensure you get help even during an emergency.
At Encompass Recovery Group, we will ensure that you get a payment plan that matches your income level. Payment terms that best suit your budget will enable you to pay back your loans with much ease. Apart from repaying your loan, you have enough funds to pay your bills. 
Why wait? Get Financial Freedom Here
At Encompass Recovery Group, our primary goal is to enable you to regain control of your finances. We offer a wide range of accounts that could enable you to get out of debts. Some of the accounts that we offer include credit cards, collection accounts, payday loans, unsecured personal loans, repossessions, past due utilities, cash advances, and installment loans.
Wait no more! Call us today and get the financial help that you need.
References and Resources
How to improve your credit score